Up, Up and Away with Waldorf Astoria Dubai Palm Jumeirah
Sponsored by

Let a hot air balloon lift you skywards for unforgettable views of the expansive desert at sunrise
With dramatic views of the Arabian Gulf on one side and the vanilla sands and space age skyscrapers of Dubai on the other, just being on the ground of the man-made Palm Jumeirah is exhilarating. But taking to the skies in a hot air balloon is an exclusive experience that, literally, lifts the senses to a whole new level. The hot air balloon ride is just one part of an ultra-exclusive experience that can be arranged by the hotel's concierge. In a world first, guests also enjoy front-row seats to an exclusive show of the ancient art of falconry whilst they're in the air! With the sweeping vistas of the city, desert and ocean below, the balloon safely takes guests to a Bedouin camp for a gourmet breakfast before a wildlife drive through the Dubai Desert Conservation Reserve in vintage Land Rovers. Combining luxury, exclusivity, raw nature and unparalleled style into just one morning, this is an experience which marks Waldorf Astoria Dubai Palm Jumeirah as a hotel that believes in creating extraordinary moments from the very moment you check in.
Discover the Hotel
Crescent Road, The Palm Jumeirah, Dubai, United Arab Emirates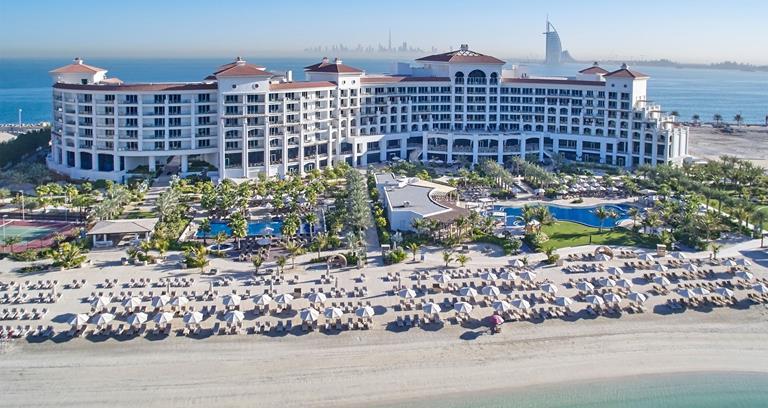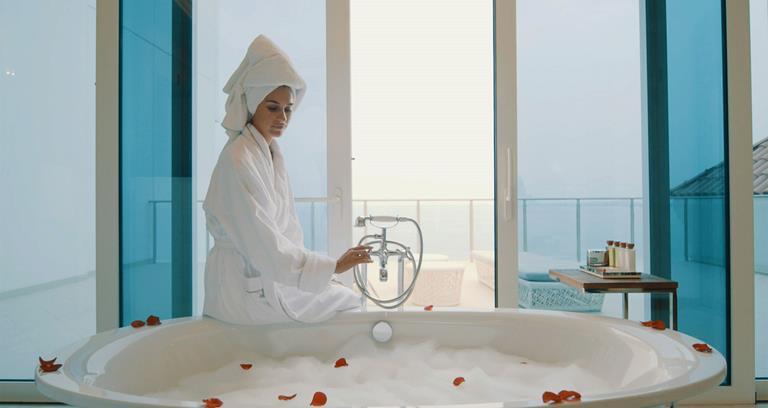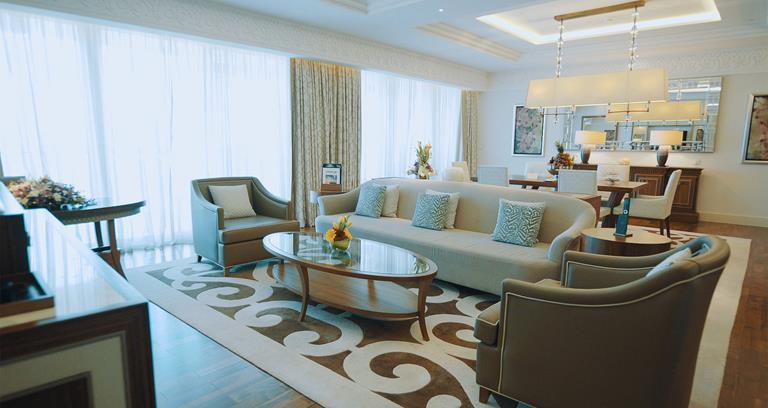 About
A pristine white pearl set against the azure waters of the Arabian Gulf, the Waldorf Astoria Dubai Palm Jumeirah has a generous private beach with soft sands, palatial public spaces and luxuriously appointed guest rooms and suites. Breathtaking views, abundant natural daylight and an understated sophistication echo throughout the resort.
Situated on the iconic Palm Jumeirah island, this Waldorf Astoria resort features 200 metres of private beach, two temperature-controlled pools and kids' pool, guest rooms and suites with sea and Palm Jumeirah views, and a Waldorf Astoria Spa with luxurious treatments.

The resort offers a supervised Kids Club and numerous leisure activities for the whole family to enjoy. From snorkeling to deep-sea fishing, your assigned Personal Concierge will arrange excursions to suit your preferences for an unforgettable experience.

Dubai's premier dining destination offers the finest cuisine with unparalleled service, from the contemporary Italian dining experience at Social by Michelin-starred chef Heinz Beck to the Vietnamese culinary journey at LAO and international fare at Mezzerie. Enjoy alfresco Mediterranean dining at Palm Avenue or experience a classic Waldorf Astoria afternoon tea at the iconic Peacock Alley, followed by vibrant entertainment at the Venetian-style Serafina Bar.
Waldorf Astoria Dubai Palm Jumeirah is a member of FINE HOTELS & RESORTS.
For more information or to make a booking, please contact your
CENTURION TRAVEL SERVICE.
View location