Milan Fashion Week S/S 16
The week may be over, but the ripples of a Milan undergoing big changes will be felt for a long time to come. We pick apart a most unusual Milan Fashion Week…
We all thought we knew Milan fashion – a commercial, wearable showcase for top-quality Italian craftwork, mostly confirming rather than setting trends.
Until now, that is, where it has become as capricious and unexpected as its Fashion Week weather. Alessandro Michele's hotly anticipated second show for Gucci was chilled by a grim, November-style downpour, yet Muccia Prada was blessed with summer's hazy last hurrah for her shock jolt away from the lyrical prettiness of her last two collections.
For Milan and its fashion are undergoing big changes, not just with a rash of new buildings, stores and restaurants, but also with new faces at established brands, shaking up a once fossilised order. Michele's Gucci sets the tone, abandoning the sexy, urban style of his two predecessors for a wander through the house's heritage but going forward by adding ornate grandeur like never before - museum-quality fabrics, exquisite Oriental embroidery and carefully frayed ribbons in Gucci stripes - Italian gorgeousness that was hard to equal.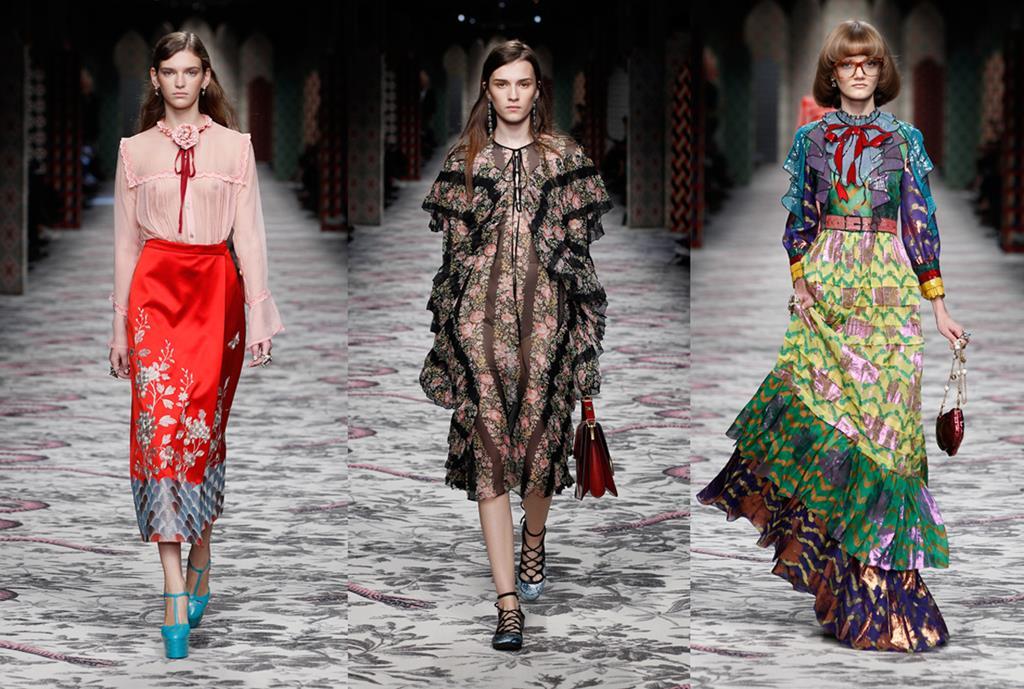 Some nearly do - Dolce e Gabbana's cheesy-but-wonderful paean to glamorous 1950s Italian holidays is handworked in bright print, beading, lace and tassels. Alberta Ferretti heads to the desert with dresses and tunics in delicate redstone and sunset shades with the finest lacework in black. Etro's bohos layer airy print, texture snd embroidery in sheeny, subtle, natural shades. Giamba's print, denim and lace and Vivetta's charming gingham, classical statue prints and landscape appliqués provide equal craftwork for younger clients. So far, what you might expect from a good Italian season. Then along comes Miuccia Prada to play Ms. Contrary.
As so often, when fashion is in one groove, she goes down another. No embroidered chiffon ruffles here but a strong, square geometry of leather stripes, boxy jackets, multilevelled tweed skirts and mismatched layers, with  organza overlays and increasing loads of shimmering paillettes. She has used these ideas before but they looked new, speaking for a modern, design-literate generation. Marni also works modern geometric layers in bright colours, sometimes peeling back to reveal monochrome mesh and abstract print. Donatella Versace changed her muse from sexpot to strong woman, in kick-ass khaki and camo-leopard print, tough boots and beaded backpacks, even if these were swapped at night for minuscule black lace dresses.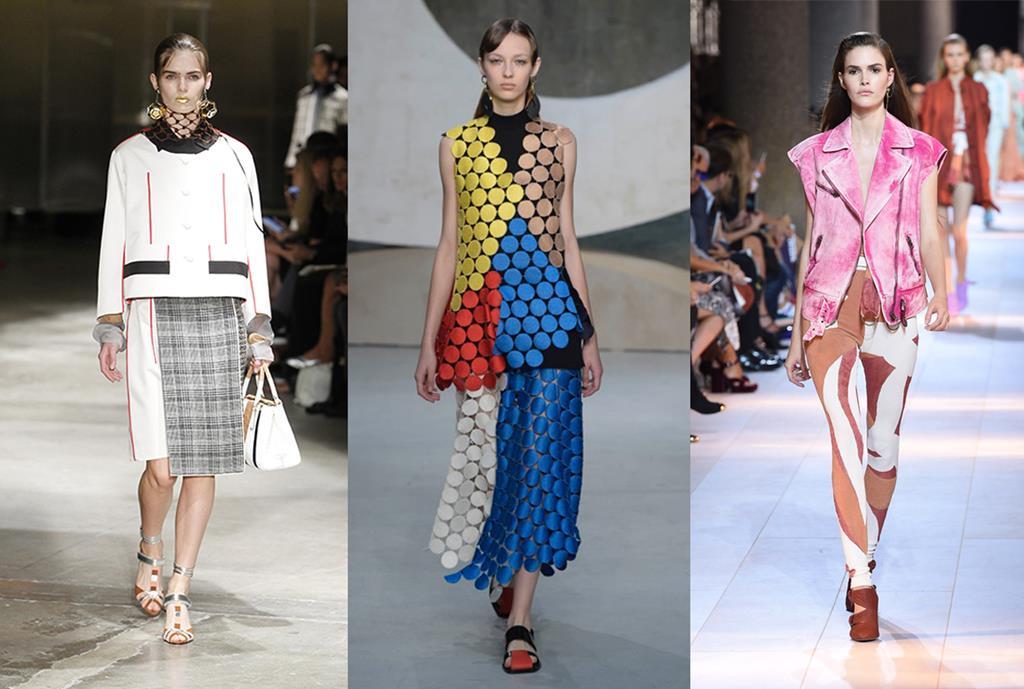 A big question was how would Peter Dundas, late of Pucci which he made sizzle, fare in his new gig at Roberto Cavalli? The answer was to turn down the heat, understandably pursuing a younger, more casual shopper - less bella figura, more bleached denim, tie-dye taffeta and printed leggings. It was very 1980s, which in fashion parlance means very new, somewhere we haven't yet been. It's also favoured by London's creative fringe, with wide-shouldered trouser suits appearing on catwalks - and on Cavalli's, in spectacular lion-motif brocade. It may not be something you like - yet. But wait till next year.