Dispatch from Shanghai
Jisoo Chon, Peninsula Shanghai Resident Manager and Seoul-born industry veteran on his adopted hometown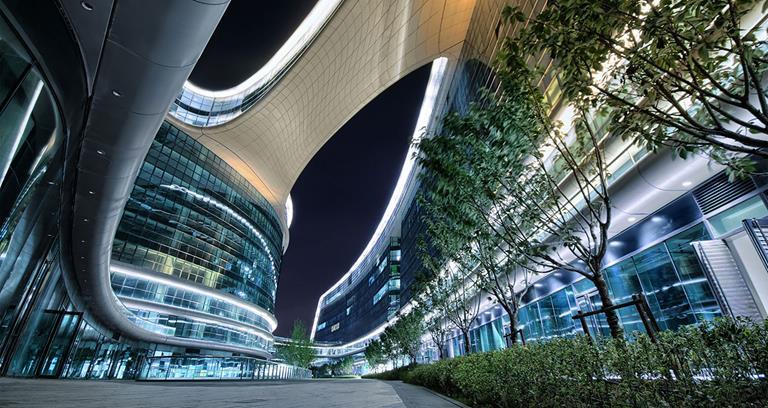 Sky Soho near Hongqiao International Airport
Sponsored by

What is changing about the city?
Shanghai is a world-renowned metropolis and it evolves constantly. It's an enormous city, and its less-known suburban areas are developing rapidly. Hongqiao Airport recently completed the first phase of renovation, and Pu Dong Airport is also expanding on a massive scale, placing its mark as one of the world's most sought-after international hubs. Shanghai is already a home to number of globally acclaimed sports events, but with increasing awareness of well-being and a near-fanatic love of sports by local residents, I foresee that many more well-known worldwide sports events will take place in here in the near future.
Where would you direct someone with eclectic taste and a love for music?

MAO Livehouse in Xuhui is a must-visit space for music aficionados. It's one of the most active concert venues in the city, and its performance genres range from pop and rock to electronic and house. It also boasts one of best sound systems and video set-ups for live performances in town. If you're looking for a little taste of swing and jazz, I recommend JZ Club on Julu Lu. Old Shanghai is the theme and this is the right place to catch some of the city's top jazz acts.
What is your artistic or cultural highlight of the moment?

Our next-door neighbour, the Rockbund Art Museum, is currently hosting a great exhibition by one of China's leading artists, Song Dong. The title of the show is "I Don't Know the Mandate of Heaven", and it is actually a fitting reference to the Analects of Confucius. Song Dong's own take on the progress of the sage is playfully contradictory, which makes this exhibition incredibly fascinating. chi K11 Art Centre on Middle Huaihai Road is another venue for art enthusiasts. "After us" is one of their current exhibitions, presented in partnership with the New Museum of New York. The main theme is art crossing over to technology. The show includes many forms of art, including sculpture, photography, performance, video and even virtual reality.

On a more permanent footing, what is your most beloved art fixture in the city?

Mall or no mall, the chi K11 Art Centre is an excellent institution. It is the first art-exhibition venue located in a mall in mainland China.