Taking Comfort to the Next Level
The Dreamliner has given Qantas the opportunity to dream big and redesign the entire travel experience
Sponsored by

Always at the forefront of innovation in aviation, Qantas is now working to combat your least favourite part of long-haul travel – jet lag.

Qantas passengers are set to benefit from a world-first collaboration between the airline and one of Australia's leading academic institutions to reshape the travel experience.

The University of Sydney's Charles Perkins Centre will work with Qantas to help develop the airline's new approach to long-haul travel ahead of the introduction of the first Boeing 787 Dreamliner flights this year.

Research projects include strategies to counteract jet lag, on-board exercise and movement, menu design and service timing, pre- and post-flight preparation, transit lounge wellness concepts and cabin environment including lighting and temperature.

Qantas Group CEO Alan Joyce said the partnership has the potential to transform the journey for passengers, particularly on the long-haul routes that the Dreamliner is scheduled to operate.

While the Dreamliner aircraft itself is already a step change for passengers with its larger windows, increased cabin humidity and lower cabin altitude, the findings that will come from Charles Perkins Centre researchers will allow Qantas to design and develop a range of new innovations and strategies to complement the Dreamliner experience.
By taking a holistic view of our customers, our partnership will examine everything from reducing the impact of jetlag through to health, nutrition and sleep through the entire journey experience.
Alan Joyce, Qantas Group CEO


Qantas has also brought together its expert in food and wine with its expert in design to modernise the in-flight dining experience and make it even more special.

In collaboration with Qantas Creative Director Food, Beverage & Service Neil Perry, renowned Australian industrial designer David Caon has designed new tableware that is modern, lightweight and practical for customers dining in First, Business and Premium Economy and the Qantas lounge network.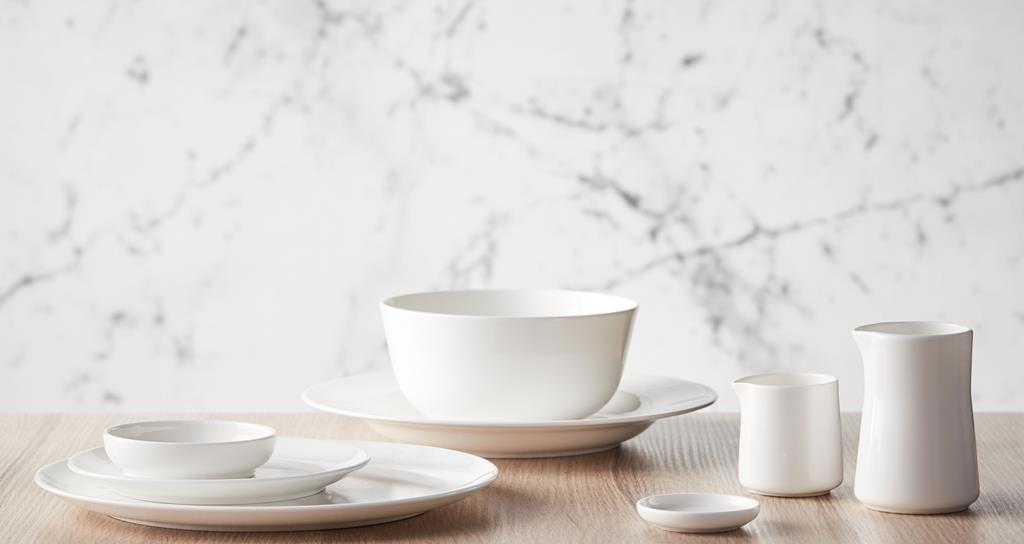 Fine Bone China 16-piece Noritake crockery set
The result is an elegant, 16-piece Noritake crockery set crafted from Fine Bone China, a five-piece brush-finished stainless steel cutlery setting and a sophisticated collection of modern glassware.

Aside from aesthetics and functionality, the airline has minimised its carbon footprint by reducing the weight of the new range by eleven percent, resulting in an annual saving of up to 535,000 kilograms in fuel.

The range will be on board Qantas flights from the first 787 Dreamliner service from Melbourne to Los Angeles on 15 December, and will progressively roll out to the remainder of the Qantas fleet.
Visit qantas.com