The Art of Sleep
In a unique new concept by Savoir Beds, art lovers can now sleep with their favourite masterpiece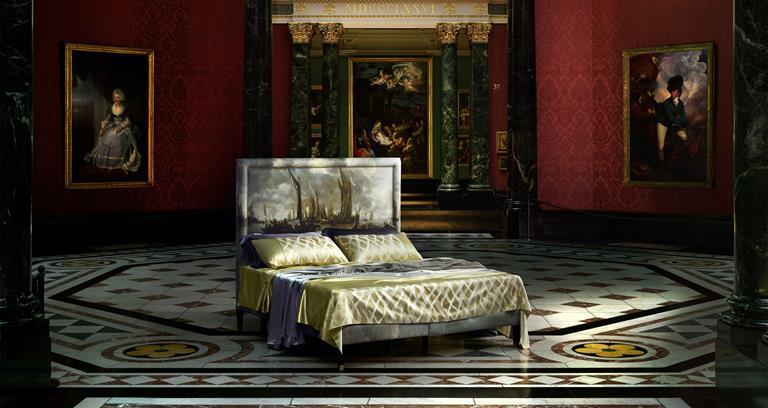 Felix – Savoir No 4 with Jan van de Cappelle, 1626–1679 'A Shipping Scene with a Dutch Yacht firing a Salute' (detail), 1650
© The National Gallery, London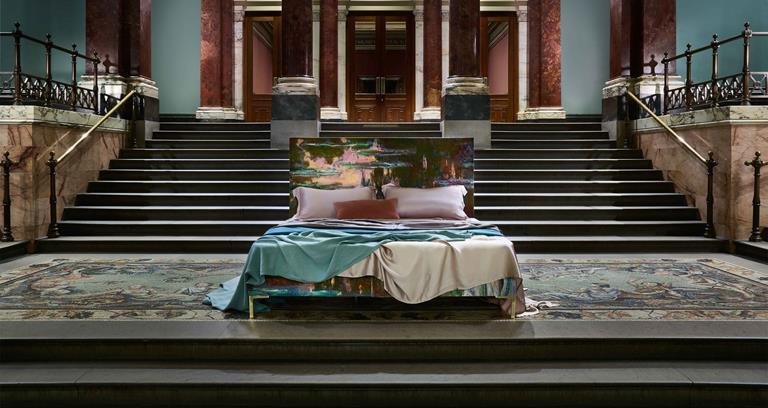 Harlech – Savoir No 2 Slim Base with Claude Monet, 1840–1926 'Water-Lilies, Setting Sun' (detail), about 1907
© The National Gallery, London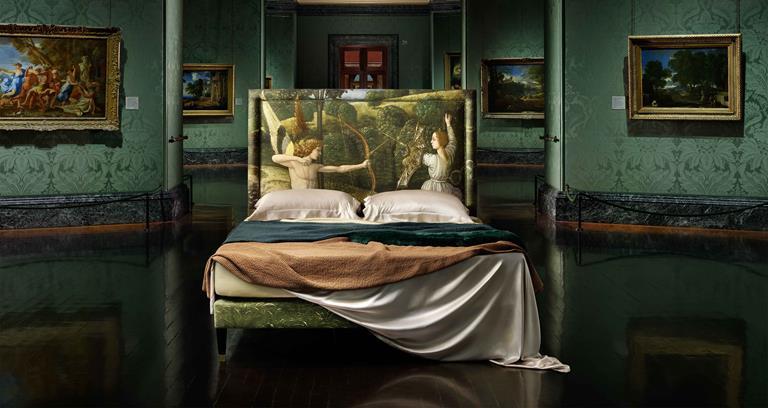 Felix – Savoir No 4 with Gherardo di Giovanni del Fora, 1444/5–1497 'The Combat of Love and Chastity' (detail), probably 1475-1500
© The National Gallery, London
Sponsored by

In a unique new concept by Savoir Beds, art lovers can now sleep with their favourite masterpiece.
Thanks to Savoir Beds' newest innovation, pillow talk is gaining an extra dimension. In an exclusive collaboration, the acclaimed UK-based bedmaker has joined forces with the National Gallery in London to bring some of the world's most famous paintings directly into the bedroom.
Whether your favourite piece of art is soothing or soporific, Savoir employs interior designer Andrew Martin to digitally print any of the masterpieces in the National Gallery's permanent collection onto your bed. The custom-made and handmade beds – upholstered in cotton, linen, viscose or velvet by Savoir – are then personalised with bespoke finishes, including brass legs or wood trim and piping.
It's a deeply personalised process – Savoir is dedicated to working closely with each customer to make sure their chosen masterpiece is represented both faithfully, and in a way that's reflective of their tastes and preferences. For any selected painting, Savoir offers the option to crop, repeat or refocus the image so that a distinct feature of the masterpiece can become a central feature of the finished bedhead.
Finally, the whole design is completed with a bespoke plaque indicating the portrait and artist, and, if they so choose, personalised details of the new owner.
Maintaining the integrity of the original artwork is central to Savoir and the National Gallery alike: the latter carefully reviews – and eventually must approve – any finished design to ensure that the essence of the original painting remains.
The potential is all but endless: ranging from portraying the JMW Turner's elegiac sunset in The Fighting Temeraire to Paul Cezanne's fraternal Bathers to the proud and graceful equine form of George Stubbs's Whistlejacket.
So whether you fancy snuggling up with a Seurat or kipping with a Caravaggio, Savoir and the National Gallery have created a unique experience where superior somnolence has become, quite literally, an art form.
Visit savoirbeds.co.uk