Paris Fashion Week S/S 16
Delving into disparate places for influence, Paris Fashion Week is all about catering to a global market. We take a look…
The week's windows at Colette, possibly the coolest shop on the planet, said a lot. On the one hand, the glam-yet-geeky mash-up of Florence-based Gucci. On the other, the edgy, 1980s-inspired yet lyrical mix from Irish-born, London-based JW Anderson, who also designs for Spanish brand Loewe, owned by French combine LVMH and based in Paris, and which produced one of the week's strongest shows.
And if all that doesn't indicate the global melting pot that fashion's premier city has become then Karl Lagerfeld, with still-sharp antennae, shouted it from the vast reservations desk which dominated his "Chanel Airlines" show at the Grand Palais with models dressed for travel in every guise from prissy tweed business suits to billowing, brightly printed, happy-holiday skirts and baseball caps worn backwards, and party girls in black-outlined silver sequins and crystal. All big brands have a global marketplace, and buyers with disparate demands flock to Paris.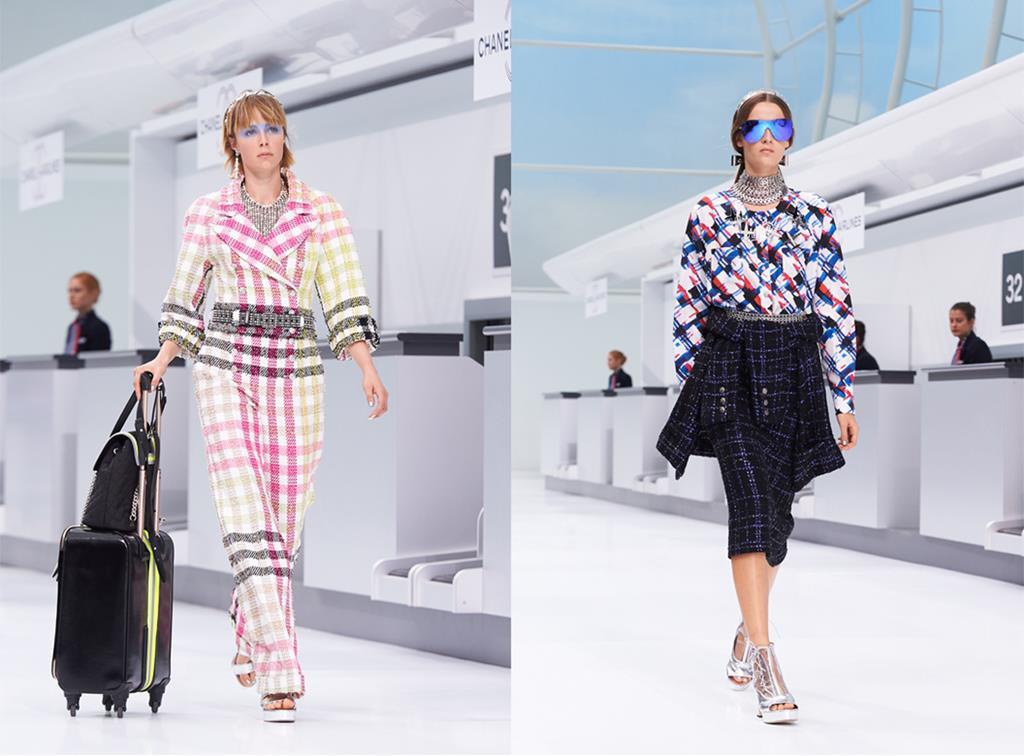 This makes creating trends difficult and helps explain both current wild catwalk mixes and apparently disparate shows like Lanvin's "Manifesto", where designer Alber Elbaz takes his own iconic designs and reworks them to emphasise the craftwork. What counts today is suiting yourself - dress for the climate, your body shape, your personality, even your mood. But there are gentle rhythms.
The ultra-feminine is still a force but it now has a tough edge, from studded leather "armour" over delicate embroidery at Valentino, of all places, or leather tops with 1990s-style puffball skirts at Louis Vuitton, to a hard metallic shine from silver crocodile and mirror shards under cellophane at Loewe.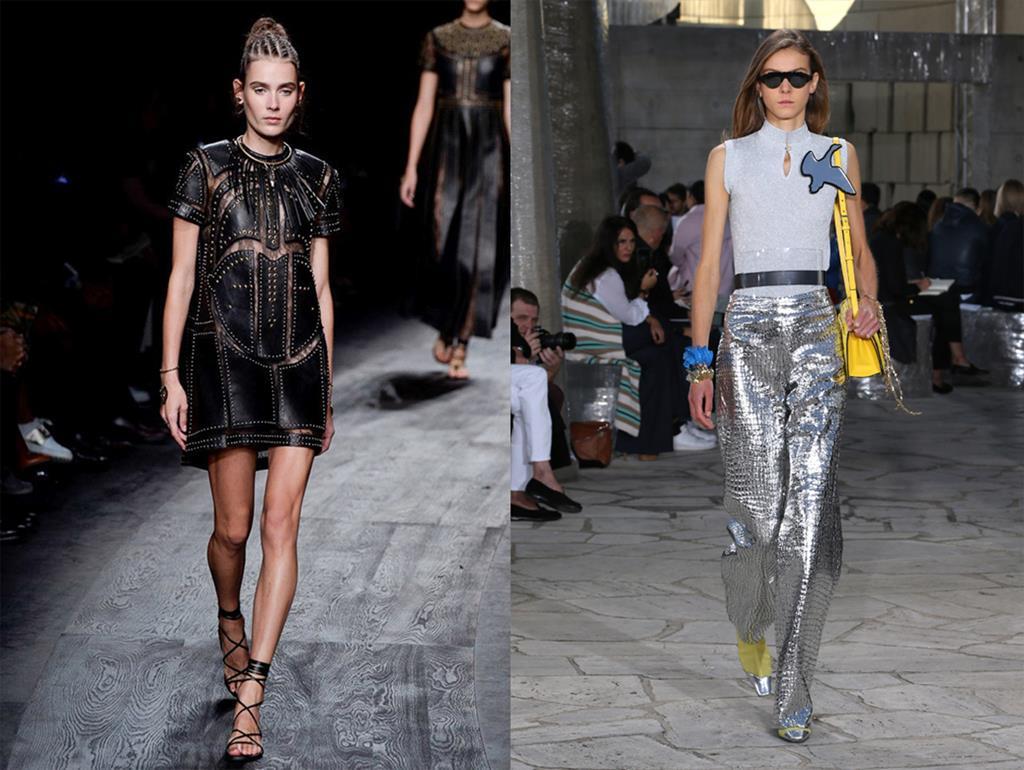 Céline defines the emerging silhouette, making sense of the puffy shoulders seen this season by making them a gentle round, above a nipped-in waist and a graceful soft flare, emphasised by lace-trimmed lingerie slip dresses, also seen at Chloé and a look reprised at Saint Laurent in a grungy, Courtney Love-does-Glastonbury way with wellies and an oversize leather jacket or tuxedo pinched from a boyfriend. At McQueen she morphs into a soldier's moll, with a sharply-cut military coat over the most feminine ruffles. The best tailoring is black over white, with innocent-looking, scallop-edged cotton lawn at Dior, or silk-fringed crochet lace at Veronique Branquinho.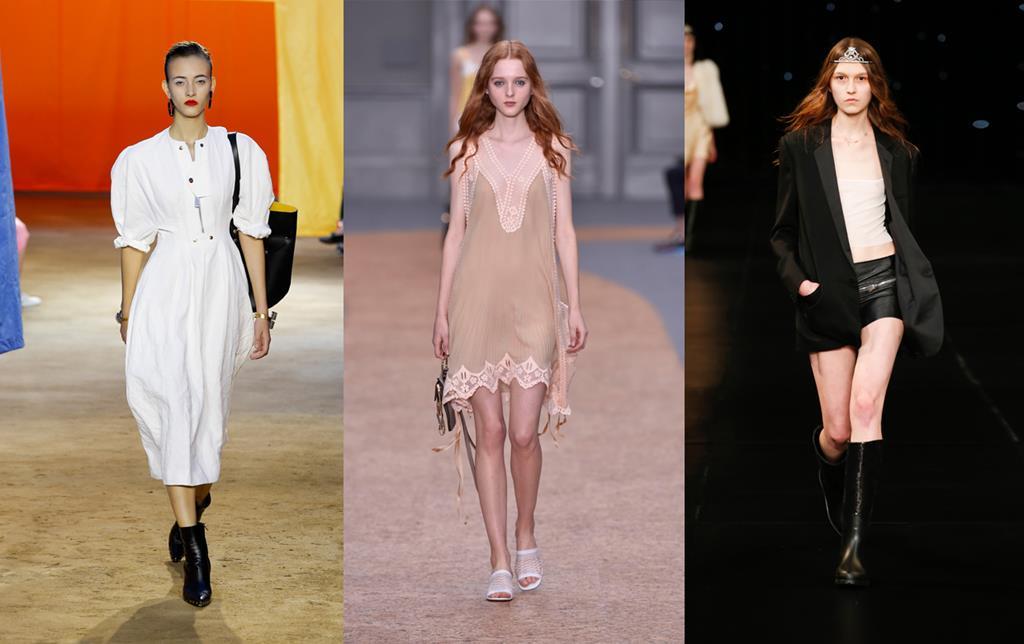 Colour is the Paris flip-side. Sometimes it is gentle and veiled, with pastel blocks under chiffon at Branquinho, a hint of peach or blue under techno organza at Akris, in chalky beading or glass under chiffon at Maison Margiela. Sometimes it is in joyous, bright stripes or checks, in complex, highly-technical pleating and best seen at Stella McCartney, Kenzo and Issey Miyake. Darker, dustier colours inhabit the Paris boho world - out of Africa in print and embroidery at Valentino, trimmed with braid and crochet work at Vanessa Bruno, teamed with the 1990s edge of combat trousers at Isabel Marant.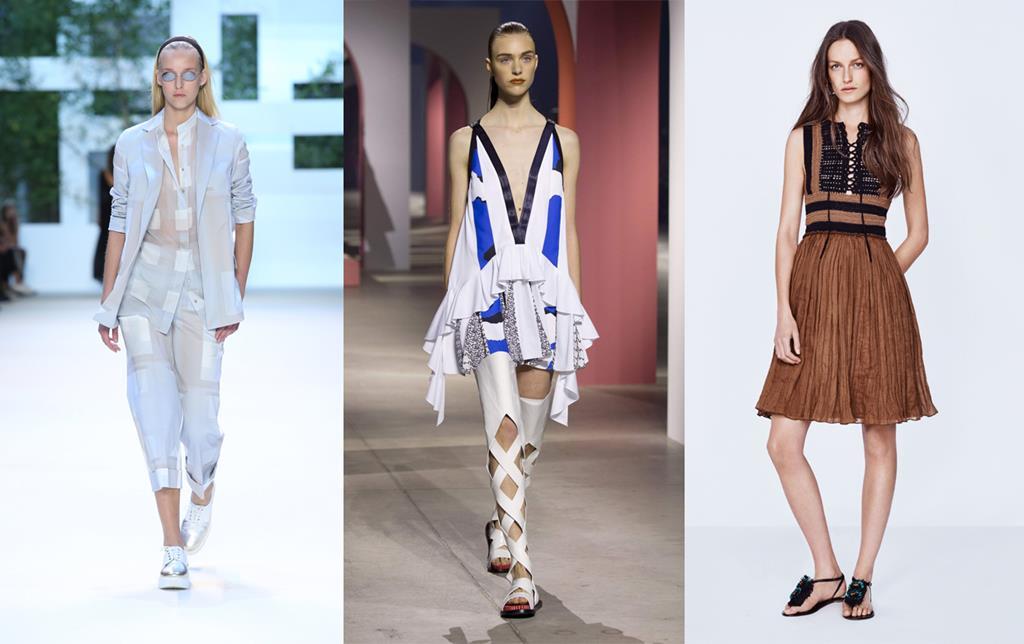 Pertinent questions are asked by Nicolas Ghesquière in his show notes for Vuitton - "Gender fluidity? Modern romance? The power of the body?  Absolute femininity?" and to answer them he mixes a gentle ruffled blouse with a tough leather waistcoat and spacy zip-trimmed trousers. And it works.